Skin
Format: Hardback
Publisher: Vintage Publishing
Published: 11th Feb '21
£16.99
Available to order, but very limited on stock. If we have issues obtaining a copy, we will let you know..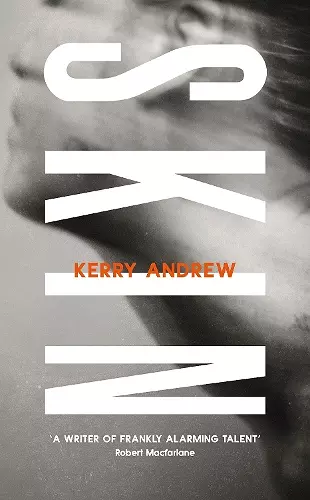 Above the water, a welcoming community of men offer refuge from an increasingly rocky home life.

Fourteen years later, a new revelation sees Matty set off alone in a campervan, driving westwards through Ireland, swimming its wild loughs and following the scant clues left behind about Joe.
'A writer of frankly alarming talent' ROBERT MACFARLANE

London, 1985. Joe, father to eleven-year-old Matty, has disappeared, and nobody will explain where he's gone, or why.

In the long, hot summer that follows, Matty's hunt for Joe leads to the ponds at Hampstead Heath. Beneath the water, there is a new kind of freedom. Above the water, a welcoming community of men offer refuge from an increasingly rocky home life.

Fourteen years later, a new revelation sees Matty set off alone in a campervan, driving westwards through Ireland, swimming its wild loughs and following the scant clues left behind about Joe. The trip takes a dangerous turn, and Matty is forced to rely on the kindness of strangers. But safety comes at a price, and with desire and fear running high, the journey turns into an explosive, heart-rending reckoning with the past.

Skin is inventive, compelling and deeply moving - a novel of loss and recovery, of wild swimming and identity from a rising star of British fiction.

*A 'BOOKS OF 2021' PICK IN i NEWSPAPER*
A gorgeous folkloric novel of water and love... You should read this and you should also read Kerry's Swansong. It's a rare thing to see folklore woven into beautiful, tender human reality with such delicacy and skills -- Zoe Gilbert, author of Folk and Mischief Acts
Kerry Andrew is that rare thing, a natural storyteller with one of those quietly confident voices that takes you by the cuff and leads you down unexpected passages. In the finest tradition of quest tales, Skin's protagonist sets out in search of one thing and ends by discovering quite another and both they and the reader grow a little as a result -- Patrick Gale
Andrew's wonderful second novel is the deeply involving story of a difficult childhood, a search for a long-missing parent, how we view our bodies and the secrets we keep even from those who know us best. -- 75 Books for 2021 * i Newspaper *
A sweeping coming-of-age narrative whose on-point themes of gender and sexuality are embedded in evocative descriptions of London during the 1980s, and of boomtime Ireland a decade later * Mail Online *
This evocative and sensitive tale is grounded by the authentic complexity of its characters... Inspired. -- Stephanie Cross * Daily Mail *
ISBN: 9781787331648
Dimensions: 223mm x 144mm x 34mm
Weight: 514g
368 pages