The Reign - Life in Elizabeth's Britain
Part I: The Way It Was, 1952–79
Format: Hardback
Publisher: Atlantic Books
Published: 6th Oct '22
£25.00
Available, normally delivered within 3-6 days.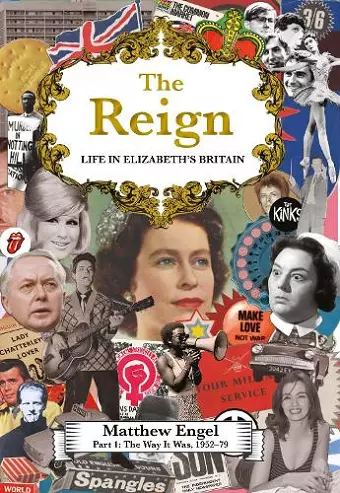 The first part of Matthew Engel's sweeping social history of modern Britain during the reign of Elizabeth II.
***A Waterstones Best Books of 2022 pick***

Book of the Year in the Daily Mail, Daily Telegraph and New Statesman

'A powerful illumination of a lost world that is nevertheless part of living memory.' Simon Heffer, 'Books of the Year' , Daily Telegraph

'A joyous new book on post-war Britain.' Daily Mail


She came to the throne in 1952 when Britain had a far-flung empire, Winston Churchill was prime minister, sweets were rationed, mums stayed at home and kids played on bombsites. In the seventy years that followed everything changed utterly - except the Queen herself, ageing far more gracefully than the fractious nation with which she became synonymous.

While the Queen is the motif for this book, the story Engel tells is not about her - it is primarily about the British. Through original research, interviews with people who were there and his own memories of the time, Matthew Engel traces the transformation of life in Britain as never before.

Beginning with the death of King George VI and ending on the eve of Margaret Thatcher's election, Engel not only covers all the major historical events but also explores everyday life - from the food we ate and where we shopped, to what we watched on television and the newspapers we read. In doing so, he brings these three decades to life with his own light touch and a wealth of fascinating, forgotten, often funny detail.
Matthew Engel's The Reign delivers equally sharp observations of Teddy Boys, hanged murderers, the British Empire, swinging London, National Service and Mrs Thatcher's ascent to power, noting that "the City was euphoric" - the post-war consensus had ended. It is a powerful illumination of a lost world that is nevertheless part of living memory. -- Simon Heffer * 'Books of the year', Daily Telegraph *
Masterly... Consistently entertaining, frequently surprising and sometimes provocative. -- Peter Wilby * 'Books of the Year', New Statesman *
A joyous new book on post-war Britain. * Daily Mail *
Entertainingly written... An immediately credible, and at times highly personal, picture... Engel brings his own views to bear, usually with wit, and at times with pleasing eccentricity. * Spectator *
A pleasingly anecdote filled new social history of the second Elizabethan era... Like the best assortment boxes, it encourages regular dipping, each chapter short and tasty enough to make you say "oh, just one more". -- Patrick Kidd * The Times *
Has at least one priceless detail per page. -- Philip Norman * Observer *
Full of richly revealing stories and quotidian detail, laced with incisive but humane judgements, and never missing the big picture of a country where the pace of social change was rapidly quickening - Matthew Engel has given us a tour de force about post-war Britain which delights and illuminates on every page. -- David Kynaston
A pure delight. There is a gem on every page. -- Peter Hennessy
I really enjoyed this romp through the headlines, partly because Matthew Engel is such an amusing writer and partly because all sixty-one of his chapters come up like three-minute songs on the jukebox - soon over and always time for just one more... Engel thinks like a journalist but writes like a raconteur. * Literary Review *
The best feature writer of his generation, Engel really scores in his attention to the minutiae of lived experience... And he has a journalist's eye for the killer detail. * The Tablet *
ISBN: 9781786496676
Dimensions: 234mm x 153mm x 39mm
Weight: 867g
640 pages
Main