Make Mead Like a Viking
Traditional Techniques for Brewing Natural, Wild-Fermented, Honey-Based Wines and Beers
Format: Paperback
Publisher: Chelsea Green Publishing Co
Published: 30th Nov '15
£20.00
Available to order, but very limited on stock. If we have issues obtaining a copy, we will let you know..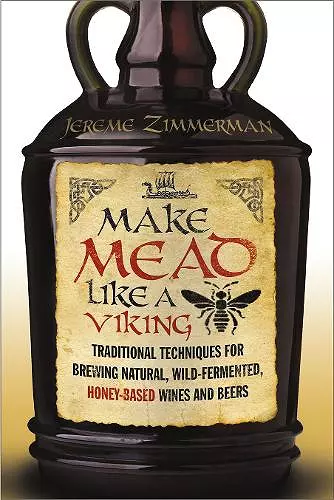 A complete, practical, and entertaining guide to using the best ingredients and minimal equipment to create flavorful brews—including wildcrafted meads, bragots, t'ej, grog, honey beers, and more!  
"A great guide . . . full of practical information and fascinating lore."—Sandor Ellix Katz, author of The Art of Fermentation 
Ancient societies brewed flavorful and healing meads, ales, and wines for millennia using only intuition, storytelling, and knowledge passed down through generations―no fancy, expensive equipment or degrees in chemistry needed. In Make Mead Like a Viking, homesteader, fermentation enthusiast, and self-described "Appalachian Yeti Viking" Jereme Zimmerman summons the bryggjemann of the ancient Norse to demonstrate how homebrewing mead―arguably the world's oldest fermented alcoholic beverage―can be not only uncomplicated but fun. 

Inside, readers will learn techniques for brewing:
Sweet, semi-sweet, and dry meads
Melomels (fruit meads)
Metheglins (spiced meads)
Ethiopian t'ej (honey wine)
Flower and herbal meads
Bragots
Honey beers
Country wines
Viking grog
And there's more for aspiring Vikings to explore, including:
The importance of local and unpasteurized honey for both flavor and health benefits
What modern homebrewing practices, materials, and chemicals work—but aren't necessary
How to grow and harvest herbs and collect wild botanicals for use in healing, nutritious, and magical meads, beers, and wines
How to use botanicals other than hops for flavoring and preserving mead, ancient ales, and gruits
The rituals, mysticism, and communion with nature that were integral components of ancient brewing
Whether you've been intimidated by modern homebrewing's cost or seeming complexity in the past or are boldly looking to expand your current brewing and fermentation practices, Zimmerman's welcoming style and spirit will usher you into exciting new territory. Grounded in history and mythology, but―like Odin's ever-seeking eye―focusing continually on the future of self-sufficient food culture, Make Mead Like a Viking is a practical and entertaining guide for the ages.
"Adventurous mead makers or brewers who want to move beyond the basics will find plenty to savor here."—Library Journal  
Library Journal-
"Zimmerman originally documented his brewing experiments on his blog, ­jereme-zimmerman.com. After enthusiastic feedback from participants in the author's mead workshops, he decided to publish a handbook on making mead with wild yeast, a practice at which the Vikings excelled. His recipes are straightforward and easy to follow, frequently including a story or tips to improve it. They often call for not only standard mead but also an unusual ingredient such as mushrooms, garlic, horehound, or marshmallow plant. Zimmerman packs this slim tome with honey-based brewing recipes, Viking mythology, Viking cultural history (as it applies to mead), a history of beekeeping, a guide to picking honey, how to drink mead, and equipment advice. While there are many mead-making titles on the market, the emphasis on wild yeast along with Zimmerman's philosophy of experimentation and self-sufficiency make this a unique offering. VERDICT: Adventurous mead makers or brewers who want to move beyond the basics will find plenty to savor here."
Booklist-
"After an exhausting day raiding coastlines and terrorizing natives, Vikings loved to relax with a nice quaff of mead. Over the centuries, mead retreated to merely a historical curiosity. But thanks to creative and adventuresome home brewers such as Zimmerman, mead has roared back to life. Zimmerman promotes natural fermentation from airborne yeasts, but for those lacking bold Viking genes, he offers advice on fermentation from commercial yeasts. Text is clear and very encouraging, and he makes mead accessible to both tyros and experienced brewers. Summarizing relevant equipment and ingredients, Zimmerman emphasizes that his disciples will produce their best meads if they don't go overboard on sterilizing their equipment nor take all the joy out of mead making. Recipes go beyond basic mead to include Ethiopian t'ej, fruit-enhanced melomel, and metheglin, which scents mead with herbs and spices. A valuable addition to any collection that seeks to satisfy the creativity of home brewers."   
"A great guide to mead making, full of practical information and fascinating lore."--Sandor Ellix Katz, author of The Art of Fermentation and Wild Fermentation
"This is a fun book—and fortunately, it doesn't stop there. Coupled with the fun parts is a book that is informative and detailed in everything from choosing honey all the way to what kinds of corks to use. As a beekeeper who has always had lots of good raw honey on hand, I have made mead before but only in the kind of sterile environment that Jereme Zimmerman eschews. His book opened my eyes to the possibility of returning to the much more natural and time-honored ways of brewing this fascinating beverage."--Jeffrey Hamelman, director, King Arthur Flour Bakery; author of Bread: A Baker's Book of Techniques and Recipes
"Tradition meets modernity in this marvelous look at the ancient brewing of honey-based beverages."--Mike Faul, owner and brewmaster, Rabbit's Foot Meadery
"I really delighted in this inspired and informative read. Throw caution into the mead-making wind and relish the challenge of some of the more unusual flavorings and ingredients. I now feel more like being a Viking mead maker than ever, and coming from a Celt and fourth-generation mead maker that is something! Enjoy mead and make merry men and maidens."--Sophia Fenton, director, Cornish Mead Co. Ltd.
"Jereme Zimmerman has captured the wild spirit of mead quite literally—as the quintessential naturally fermented beverage of humankind from the beginning, which reached its apotheosis with the Vikings. Without compromising its mysterious allure, he brings it down to earth for all to make and enjoy."--Patrick E. McGovern, author of Ancient Wine and Uncorking the Past
"Make Mead Like a Viking puts the ME back in mead: my Scandinavian heritage simply sang when reliving the history, reading the recipes, and playing the drinking games he includes. And best yet . . . Zimmerman encourages mead makers to keep their own bees! There's no better way to get the best honey there is than when you, and the bees you care for, make it happen together. For me, this is the perfect marriage."--Kim Flottum, editor-in-chief, Bee Culture: The Magazine of American Beekeeping
ISBN: 9781603585989
Dimensions: 229mm x 153mm x 26mm
Weight: 454g
240 pages