Aquanaut
A Life Beneath The Surface – The Inside Story of the Thai Cave Rescue
Format: Paperback
Publisher: Penguin Books Ltd
Published: 25th Aug '22
£9.99
Available, normally delivered within 3-6 days.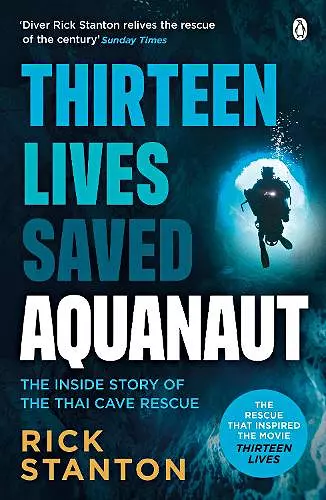 THE ENTHRALLING INSIDE STORY OF THE THAI CAVE RESCUE FROM THE MAN AT THE HEART OF THE MISSION, AS SEEN IN THE SUNDAY TIMES

'The British divers are all heroes' Clive Cussler
'A case study in courage' Ron Howard, Oscar-winning director of Apollo 13
________

Thailand, July 2018. Twelve boys and their football coach vanish into Tham Luang caves just as the monsoon rains hit. A mile from the surface they are trapped by rising flood waters. All attempts to reach them fail.

As hope for their survival fades a retired British firefighter tinkering with homemade cave-diving kit gets a call.

Rick Stanton and his dive partner race to the other side of the world.
The boys have been missing for days.
Each hour, their chance of escape shrinks.
Rick must swim, crawl and squeeze through treacherously tight submerged tunnels hunting for them.

But that is not the impossible part.

Because if by some miracle they're alive then somehow he must bring the boys back out again . . .

He doesn't know it yet but all his life he's been training for this very moment . . .

________

'The riveting, behind-the-scenes story. Captivating' SUNDAY POST

'A definitive view of the rescue. You probably won't read a better-written book about diving this year. I just had to get to the end' DIVER MAGAZINE

'Diver Rick Stanton relives the rescue of the century' SUNDAY TIMES

'Remarkable . . . the chronicle of a man from a humble background who worked devilishly hard . . . and was willing to go anywhere to help people in the most dire cave disasters' WALL STREET JOURNAL


THE RESCUE WATCHED BY THE WORLD

'The Thai cave rescue was phenomenally dangerous, and the work of true heroes' iNews

'[The rescue] was fantastic, it really was . . .' HRH Prince William

'If it was me stuck anywhere, the one person I would want to come and rescue me is Rick Stanton' Alex Daw, Watch Commander, West Midlands Fire Service

'One of the great stories of our time' Elizabeth Chai Vasarhelyi, Oscar-winning co-director...
Diver Rick Stanton relives the rescue of the century * Sunday Times *
As the world held its breath, the men and their team achieved the impossible. This is their riveting, behind-the-scenes story. Captivating * Sunday Post *
You probably won't read a better-written book about diving this year . . . Funny and relentlessly self-deprecating. I read this at two sittings * Diver Magazine *
ISBN: 9781405944106
Dimensions: 198mm x 129mm x 27mm
Weight: 309g
448 pages