The Very Hungry Caterpillar: Little Learning Library
Format: Board book
Publisher: Penguin Random House Children's UK
Published: 5th Mar '09
£5.99
Available, normally delivered within 3-6 days.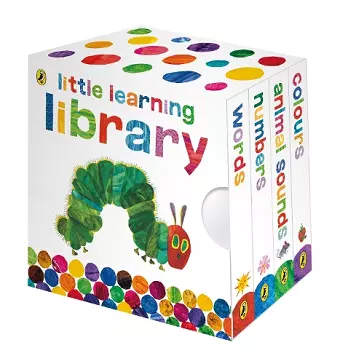 Suitable for little hands to hold, this title features sturdy board pages that are durable enough to withstand the rough and tumble of toddlers. It is filled with collage art, and large and simple text.
A stunning little learning library featuring artwork from The Very Hungry Caterpillar.

· Introduce first concepts to toddlers
· Four mini books: Colours, Animal Sounds, Numbers and Words
· Made up of sturdy board book pages
· Ideal for rough and tumble toddlers

Preschoolers will love learning with the Very Hungry Caterpillar!
ISBN: 9780141385112
Dimensions: 98mm x 93mm x 53mm
Weight: 338g
48 pages